Hey, those of you who are undergraduates or have college kids in the family, check out the Colorado Biomedical Informatics Summer Training Fellowship (May 28 – July 19, 2019). What a wonderful program!
Application deadline: April 15, 2019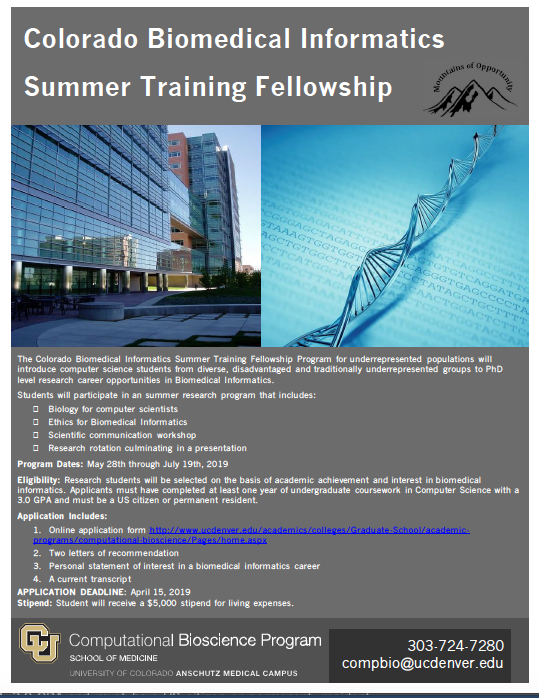 Check for updates here: https://www.colorado.edu/biologyadvising/2018/10/12/colorado-biomedical-informatics-summer-training-fellowship
I attended a similar program the summer of my Junior year. It was the most pivotal moment of my scientific life; it solidified the path to my scientific pursuits!
The bioinformatics program I attended was sponsored by NIH and held at the Center of Excellence in Genomic Science at the University of Southern California (USC), which has been on the center stage in the news lately. I was able to work in multidisciplinary groups to parse some SNP data. I meant it when I said "multidisciplinary." The program was designed to for us the biologists to pair up with teammates with computer science, medical, nursing or psychology background. Beyond the projects and the classes, the best part of the program was the journal club! It was my first experience of such amazing intellectual stimulation. I can still remember the excitement I felt then, even though it was years ago, and how Dr. Steve Finkel, whose passion in science and teaching was contagious, walk us through each figure of the papers. These scientific papers went from gibberish-ish to becoming beautiful stories at the end of the journal club. Sold. There were no more questions about whether or not I should apply to grad school; it became yes — grad schools, I am coming!
So, I hope that curious college kids everywhere have access to programs like this. As I said, kids, go learn how data dance for you! Apply to the program!